Sue's crochet tote done
I'm glad to announce that my tote bag is done.
I'm pleased with it as it is my absolute FIRST crochet project. It doesn't look perfect, but I think it is cool. I used an acrylic yarn - Bernat Berella "4" because first project, you never know what might happen, eh? But it turned out well
So, Bernat Berella yarn, Hook J size and I didn't use 4 skeins at the same time since the yarn was thick enough.
I wasn't so sure about the flower I had 5 tries before understanding that the 1sc, 3dc, 1sc had to be in the same one sc.. I'm a beginner, after all so crocheting in the round isn't something I've done before.. but all in all - I've finally done it!
and here it is: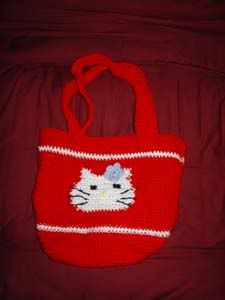 Thanks Oslofia for the lovely pattern!